WELCOME ABOARD
Captain Terry and his first mate, Vicki, welcome you for an adventure aboard FISH FACE.  We are a family friendly charter and welcome all fishermen and fisher ladies regardless of your angling experience.  Captain Terry is a military veteran and Blue Water Tournament winning skipper with over 30 years experience and is USCG licensed and insured.  While aboard FISH FACE, Captain Terry will capture pictures to share with you, and document the memories that were made during your day on the water!  Terry is known and considered one of the top full time fishing guides here in SW Florida.
Captain Terry is a Staff Writer for The Coastal Angler Magazine for the SW Florida Region and Internationally.  Terry also writes a weekly fishing forecast for the SW Florida Marine Industries Association and those articles may be seen at www.goboatingflorida.com.  With your permission, he will use pictures taken to enhance his written articles!
Our goal is to make sure that you have a pleasurable experience, catch fish, make memories and gain knowledge of our beautiful waterways and area.  Captain Terry has fished worldwide and has plenty of knowledge and stories to share!
MEET CAPTAIN TERRY FISHER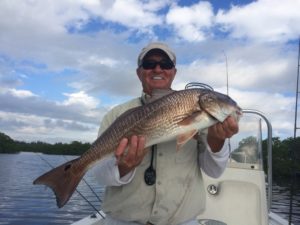 Captain Terry has fished 'world–wide' and is a full time local fishing guide. He shares his experience(s) as a contributing writer through a number of print and 'on-line' publications. He writes monthly articles for Coastal Angler Magazine (www.coastalanglermag.com) as well as 'on-line' weekly fishing reports for the Marine Industries Association of SW Florida (www.goboatingflorida.com). He remains one of SW Florida's most versatile and consistent '5' STAR RATED guides by Trip Advisor. He is USCG licensed and approved. He utilizes a variety of departure locations from Ft. Myers Beach to Charlotte Harbor. This provides clients the utmost in convenience as well as allows a choice of areas to fish that help insure a successful fishing experience. Captain Terry provides service for Ft. Myers, Cape Coral, Pine Island as well as the 'outer' islands of Sanibel, Captiva and N. Captiva. Memories and the opportunity for a 'fish of a lifetime' are possible to professional and recreational anglers alike. Families with children are encouraged to join him aboard a new 23 ft. Pathfinder HPS Bay Boat and fish confidently with 'state of the art' fishing equipment.
Captain Terry is also and avid fly-fisherman and offers fly-fishing charters in addition to conventional fishing charters. Fly-fishermen enjoy the large and uninhibited casting platform of the Pathfinder 23 HPS. Trout, Redfish, Snook and Tarpon for the taking!
FISHING ADVENTURES
We customize each charter to accommodate everyone from the pure fishing enthusiast to the beginning angler learning the thrill of light tackle fishing.   We will mix it up with artificial as well as live bait depending on your level of experience.  We include everything you need for a fun day except what you want to eat and drink while on board!
For those that want to enjoy a 6 hour day we can take you to one of the outer island restaurants for a lunch break and then return to fishing before heading in.
Do you enjoy shelling as well as fishing?  No problem…Captain Terry can drop you at Cayo Costa for shelling the unchartered beach area, have your lunch on the beach and then head out to the fishing grounds!  We are flexible and can accommodate…it's your day!
HIRE AS CAPTAIN FOR YOUR BOAT
Captain Terry will go with you on your vessel so that you can learn to navigate our beautiful waterways with ease and local knowledge.   He can help you with tracking on your GPS, show you how to navigate to and from local waterfront restaurants, anchor at the beach, learn the marker system and the intercostal waterways.
As a Guide on your vessel, Captain Terry will provide the fishing equipment, tackle and licensing.  You provide the bait.
While on your vessel this allows you to mark the 'spots' on your GPS, learn proper riggings and techniques and learn where the fish are and how to catch them on your own.
All passengers and vessels are responsible for complying with the USCG boating safety regulations.
RATE IS $75.00 PER HOUR (4 HOUR MINIMUM)